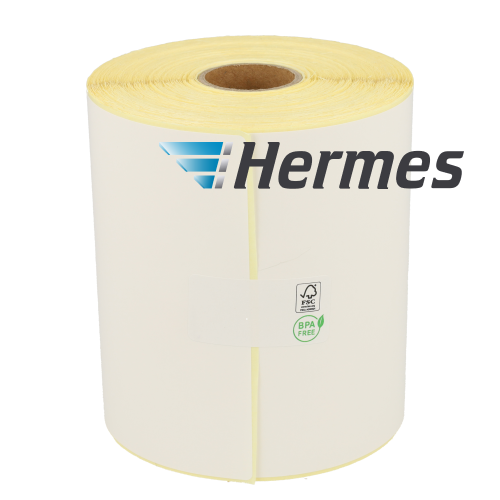 Price starting from £3.40 Per unit Excl VAT
Paper of sustainable origin.
102mm x 210mm (4 x 8-1/4)
210 Labels
permanent adhesive
Direct thermal (eco)
25mm core
Suitable for the following printers:
Zebra
Bixolon
Godex
Intermec
Brother
Toshiba
And more...
The shipping labels 102mm x 210mm (4' x 8-1/4') can be used for shipments via DHL or Hermes.
Thermal material means that these labels can be printed with a thermal printer.
With thermal labels, text is able to be made through heat; therefore no ink is required for the printer.
You can buy your Hermes shipping labels 102 x 210mm quickly and easily at Zolemba.
Are you looking for new shipping labels? Forget the over-priced original products. Zolemba delivers the same top quality for a better cost-efficient price.
| Quantity | Discount | Per unit |
| --- | --- | --- |
| from 12 | 0% | £4.02 |
| from 48 | 5.22% | £3.81 |
| from 96 | 11.94% | £3.54 |
| from 492 | 15.42% | £3.40 |
Specifications
Material
Printer Type
Citizen CL-S300
Citizen CL-S321
Citizen CL-S621
Citizen CL-S631
Bixolon SLP-DX420G
Citizen CL-S6621
Citizen CL-S700DT
Brother TD-4100N
Citizen CL-S700
Godex RT-700i
Godex RT-730i
Godex G-500-UES
Godex G-530-UES
Godex EZ-2250i
Godex EZ-2350i
Godex EZ-2050
Godex EZ-2150
Godex EZ-6200PLUS-E 
Godex EZ-6300PLUS-E 
Godex ZX-1200i
Godex ZX-1300i
Godex ZX-1600i
Godex G-300
Citizen CL-S521
Godex G-330
Godex RT-860i
TSC ME240
TSC ME340
Zebra A300
TSC TA210
Zebra DA402
TSC TA310
Zebra GK420D
Zebra ZT220
TSC TC200
Zebra (T)LP 2742
Zebra Z4M Plus
TSC TC210
Zebra ZT200
TSC TC300
TSC TC310
Zebra (T)LP 3842
TSC TDP-247
TSC TTP-2410MT
TSC TTP-346MT
TSC TTP-644MT
TSC TX200
TSC TX300
TSC TX600
TSC TTP-243
TSC TTP-247
Toshiba B-FV4D
Toshiba B-FV4T
Godex EZ-1105
Godex EZ-1305
Godex EZ-2200
Godex EZ-2300
Godex EZ-PI 1200
Godex EZ-PI 1300
Godex ZX-1X00i
Godex ZX-420
Godex ZX-430
TSC TTP-245C
TSC TTP-343C
TSC TTP-246M
TSC TTP-334M
Toshiba B-EV4D
Toshiba B-EV4T
Brother TD-2130N
Intermec Easycoder C4
Godex EZ-1100plus
Label Series
Maximum Roll Diameter
Applications