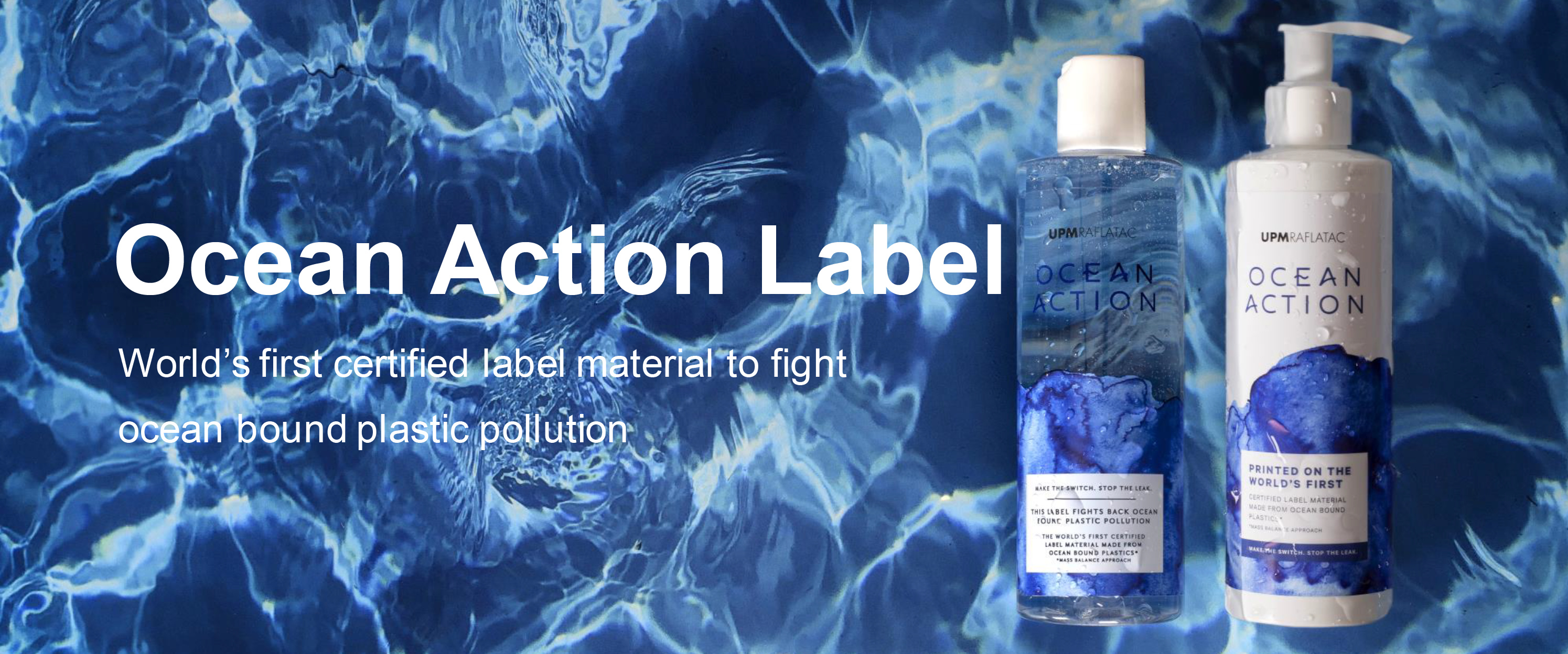 Our printed labels are going blue - and we don't mean the color! Introducing our latest label material, Ocean Action Polyprolynene (PP). The new sustainable alternative to PP labels. Discover how this eco-friendly material is not only good for your brand but also for our planet!
Why Ocean Action Labels?
Every year, more than 13 million tons of plastic are dumped into the ocean. That's one garbage truck of plastic per minute! If we continue at this current pace, by 2050, the oceans will contain more plastic than fish! Our substrates supplier,
UPM Raflatac
has found a unique way to put these plastic quantities to good use.
UPM Raflatac is the first company in the world to introduce Ocean Action labels, made from plastic waste that would otherwise end up in the oceans.
These innovative labels contain plastic waste collected up to 50 kilometers from the coast. Together we contribute to recycling and reducing plastic pollution while creating a sustainable future.
A New Sustainable Wave
Made from the oceans, for the oceans
The Ocean Action Labels are intended as the sustainable choice to enable customers of printed PP labels to make sustainable choices for their product labeling.
Ocean Action PP is made from plastic waste collected directly from the ocean, mainly from areas where the problem of 'plastic soup' in the sea is severe.
Zolemba's Ocean Action PP is available in both white and transparent permanent. The white variant consists of up to 85% ocean plastic, and the transparent variant of up to 90%!
What does this mean for you?
These Ocean Action Labels represent not only a change in our printed labels but also a significant step towards sustainability for all of us. The new Ocean Action PP will be available in our configurator. With this additional option, you can make conscious choices about sustainability. Ocean Action PP labels deliver the same quality as standard PP labels, allowing you to reduce your ecological footprint without compromising on quality. The price level is expected to be comparable to our PP Forest materials.
Ocean Action Labels let consumers recognize that your brand is committed to sustainability, strengthening brand trust. With Ocean Action Labels, consumers can make conscious choices while shopping. They can identify products packaged with sustainable labels and choose to support brands that are committed to improving the environment.
By introducing Ocean Action PP labels to our materials assortment, we as Zolemba are taking the conscious next step toward a circular future.
We are excited to make this leap forward in sustainability together with you!
You can now find Ocean Action PP materials in the printed custom configurator.